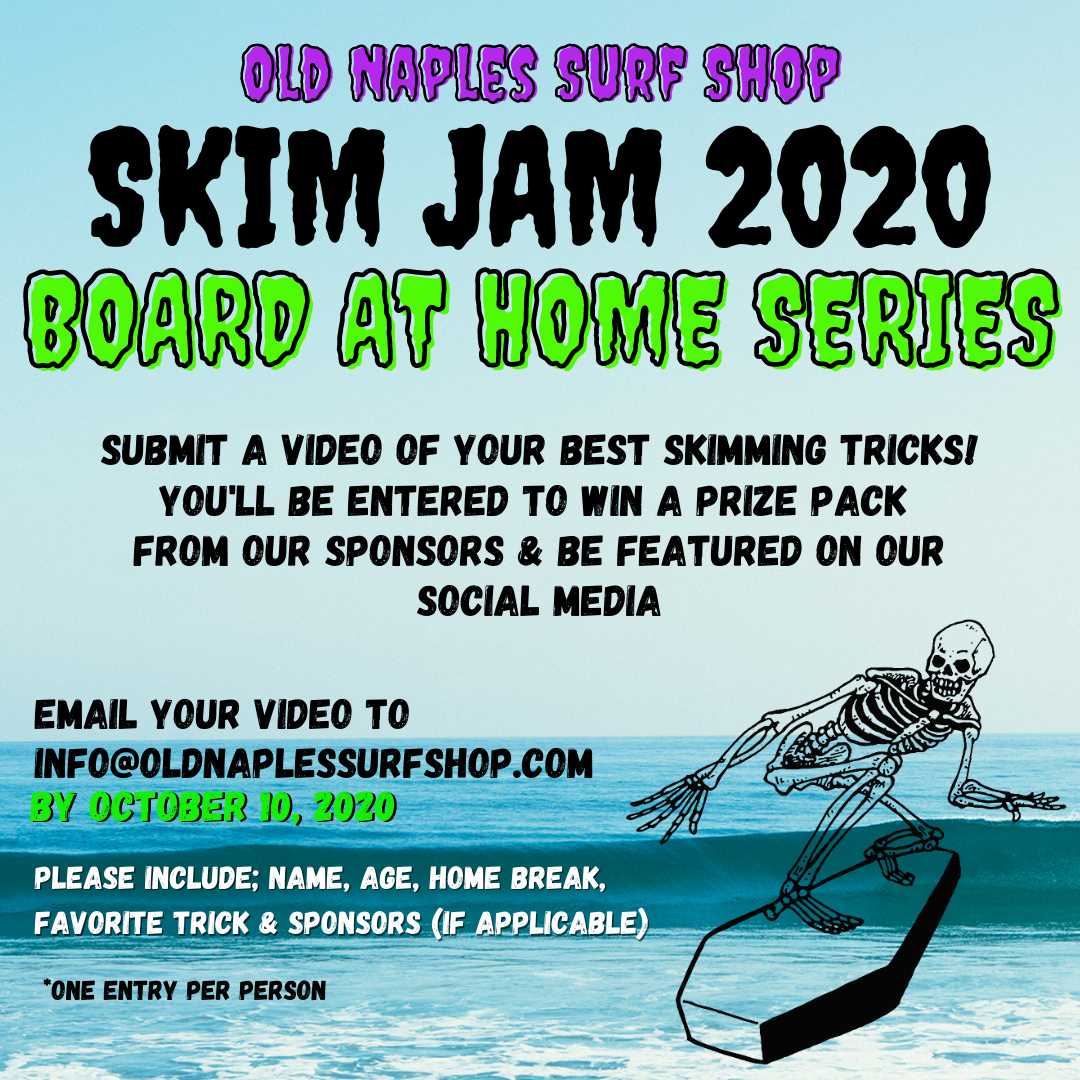 The
Old Naples Surf Shop
regrets to announce that the
8th Annual 13th Avenue South Skim Jam
has been canceled due to COVID-19 restrictions. However, in an effort to keep the spirit of this popular event alive,
Old Naples Surf Shop
will host the
Inaugural Skim Jam 2020: Board at Home Series
starting October 17th - October 31st, 2020. 
As an involved member of the community,
Old Naples Surf Shop's
owner, Sharda Spahr, deliberated over this decision at great length with her team. "All of us at
Old Naples Surf Shop
want to make sure our patrons are safe, healthy and not taking any unnecessary risks by gathering in large numbers for this event." 
Old Naples Surf Shop
invites all contestants to submit a video of them skimming! With their entry in the
Board at Home Series
, they will have a chance to win a prize pack from our sponsors. The video should include their name, age, home break, favorite trick, sponsors (if applicable) and emailed to
[email protected]
. The clip should be less than a minute long. 
Here is an idea of the tricks we would love to see:
Shuv-its
Sprays
Wraps
Airs
Spins
Trick variations
Variable flips
Etc…
Have fun!
The last day for submissions is

October 10, 2020

. 
A NEW compilation video will be created including each contestant's entry and then posted on all our social media platforms. Unlike previous years, there will be no age groups or individual winners. Their entry will go towards the drawing which will be chosen randomly via live-stream on our Instagram
@OldNaplesSurfShop
.
Thank you for continuing to support us and this event for all these years. We are looking forward to all submissions and most importantly to hosting
Skim Jam 2021
at our beloved 13th Avenue South Beach.
Get outside and go skim!